FOCAS Good News
FOCAS Library
The Scoop Newsletter
FOCAS delights in happy placements and kudos. Perhaps the most heart-warming reward any FOCAS volunteer gets is a note, an email, or maybe even a picture of an animal that s/he took special interest in and helped place in a loving home. FOCAS would like to share them with you so you too can experience the joy duly earned by your support and compassion.
Check out The Scoop newsletter and Library that follows our happy placements and kudos update. The Scoop is filled with heart-warming letters, lots of pictures, FOCAS news and helpful information. To receive the latest copy of The Scoop, just email your mailing address to info@focasnews.org.
FOCAS
honored once again!!! On March 9, 2014

FOCAS

President, Carol M. Burrows, was inducted into the New Jersey Veterinary Medical Associations 20th Annual Animal Hall of Fame for exceptional work in recognition of humane efforts promoting the human-animal bond.

On November 1, 2006 the Community Resource Council announced that

FOCAS

is the recipient of the Dr. Harry Brandeis Memorial Community Service Award, which is accorded to individuals and organizations that have made a significant contribution to the community.

FOCAS

is one of four distinguished recipients this year. They are: (1) American Red Cross (Bergen-Hudson Chapter), (2) Bank of America, (3) Joseph Gallagher - CEO & President of Bergen Regional Medical Center and (4)

FOCAS

, Carol Burrows, President. This award is recognition of the vision, hard and heart-tugging work and commitment of

FOCAS

volunteers who are passionate about making a difference for animals, for people, for the community. It is recognition that humane and humanitarian outreach co-exist to benefit a greater good for all.

THANK YOU

FOCAS

VOLUNTEERS and

FOCAS

Donors!!!!!!!! Together YOUR very tangible goodness makes it possible for FOCAS to bring a better quality of life to hundreds of homeless animals each year.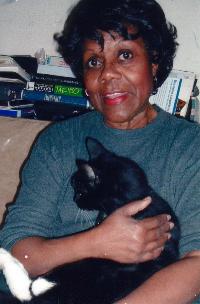 Pepe the Cat - Sweet 16
Pepe, a 16 year old cat, and his campanion once again are enjoying each other's company. But in December, things looked bleak for Pepe. He was restless, not eating and meowing constantly as if he were in pain.
His companion, a retiree on a fixed income, made the painful decision to take Pepe to a shelter with the hope that someone would adopt him who could provide the medical care he needed. But, she was told that Pepe's chances of being adopted were unlikely because of his age. It was suggested he be put to sleep. So, she brought him home, not knowing what to do.
FOCAS learned of Pepe's need. With the aid of FOCAS' Helping Hand Program, Pepe was taken for the veterinary care he urgenty needed. He underwent surgery and treatment for severe gum disease.

Well, Pepe was returned 9 teeth lighter but a whole lot happier. Today, he is eating. He is tranquil. And, with all the TLC that he receives from his devoted care-giver, his future looks very good.

Because of the kindess and compassion of its donors, and the support of local veterinarians, FOCAS is able to sponsor programs like Helping Hand. We thank YOU!

FOCAS Library & The Scoop